Since the Biden-Harris administration announced its immigration plan, El Centro Hispano NC as a member of El Colectivo NC began a permanent work of advocacy for a just and comprehensive reform, which considers the 11 million undocumented immigrants.
Caravan in Raleigh and Asheville
On Saturday, May 1, 2021, the organizations and members of El Colectivo NC demonstrated in Raleigh and Asheville in favor of immigration reform, as part of the national movement The Relay Across America. The agenda included activities such as a caravan, a press conference, exhibitions of folk dance, art and photography.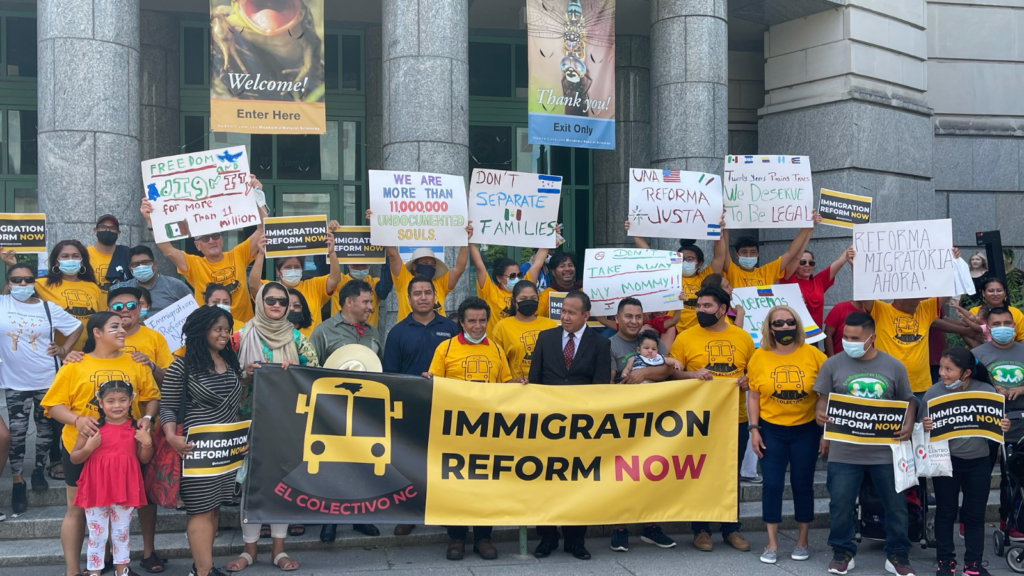 North Carolina faith leaders, social organizations, community-based groups and allies joined their voices in a Week of Action for Immigration Reform, August 24-28, 2021.
Democratic state legislators raised their voices alongside representatives of the Latino community to demand from the National Congress the approval of a comprehensive, inclusive and humanistic immigration reform that opens the "way to citizenship "for the 11 million undocumented immigrants.
On August 24, after the press conference, the organization turned to spread his message and call to action on the social network Twitter, which is known as a Twitterstorm, and it stayed throughout the week. The hashtag #InmigrationReformNow was used and the messages pointed toward Republican Congressmen from North Carolina.
The closing of the "Week of Action for Immigration Reform" was scheduled for Saturday, August 28 at the Plaza del Bicentenario, in Raleigh, opposite to the headquarters of the General Assembly. The organizers prepared a concentration of force, with the participation of political and social leaders, musicians and artistic groups.
A delegation from El Colectivo NC and Action NC joined the march for the immigration reform in Washington D.C. convened by organizations nationals such as FIRM Action and CASA. More than 8 participated in the activity 1,000 people from at least 35 states.
Meetings and Visits to our Representatives
The activism day in the federal capital included meetings with the North Carolina Democratic Representatives Deborah Ross and David Price, as well as Kathy Manning's advisers, George Kenneth Butterfield and Alma Adams.
In the face of the silence of the Democratic senators in Washington D.C. and the uncertainty about the future of immigration reform, El Colectivo NC proposed to redouble its efforts to bring its message to state congressmen in the federal capital, through days of digital activism on Twitter and phone calls.