Many community residents, including many  citizens, do not have the necessary requirements to receive a state issued ID card  or driver's license. They are often required to  prove their identity for numerous reasons  each day, and without a reliable ID may not  be able to identify themselves with law  enforcement, receive urgent services with  schools, health centers, city departments,  and social service agencies, or participate in  the cultural and business life of their community.
The FaithAction ID card provides card holders  with a reliable form of identification that can  be used as a tool by law enforcement, city  departments, health centers, schools,  businesses, and cultural arts organizations to  better identify, serve, and protect us.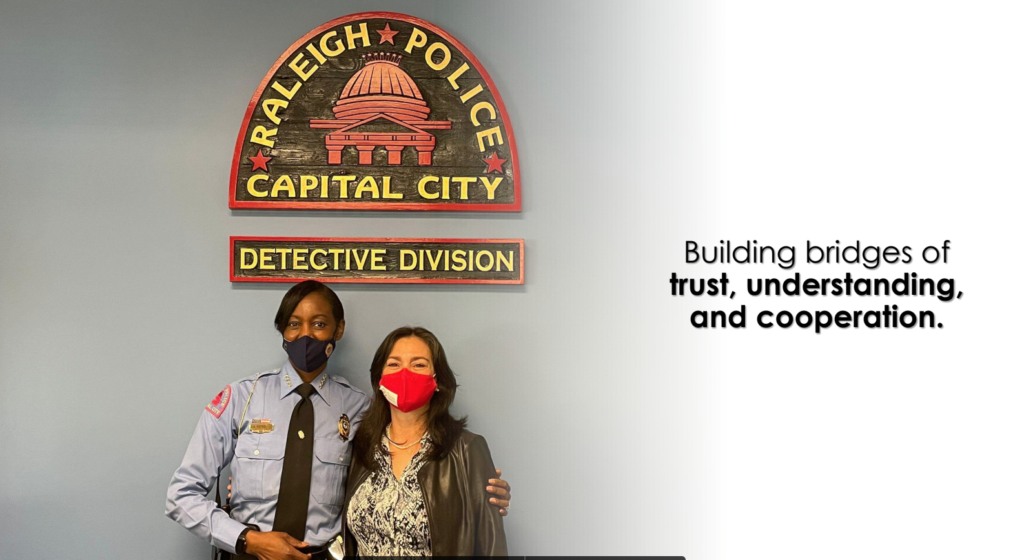 The FaithAction ID card is available to any  resident who may have limited access to  government issued ID card, as well as those  who support safer, more inclusive and united  communities.  
Participants who have especially benefited  from the program include new immigrants  and refugees, homeless and elderly

individuals, people recently returning from jail,  as well as faith and city leaders, teachers,  health and social service workers, and many  others.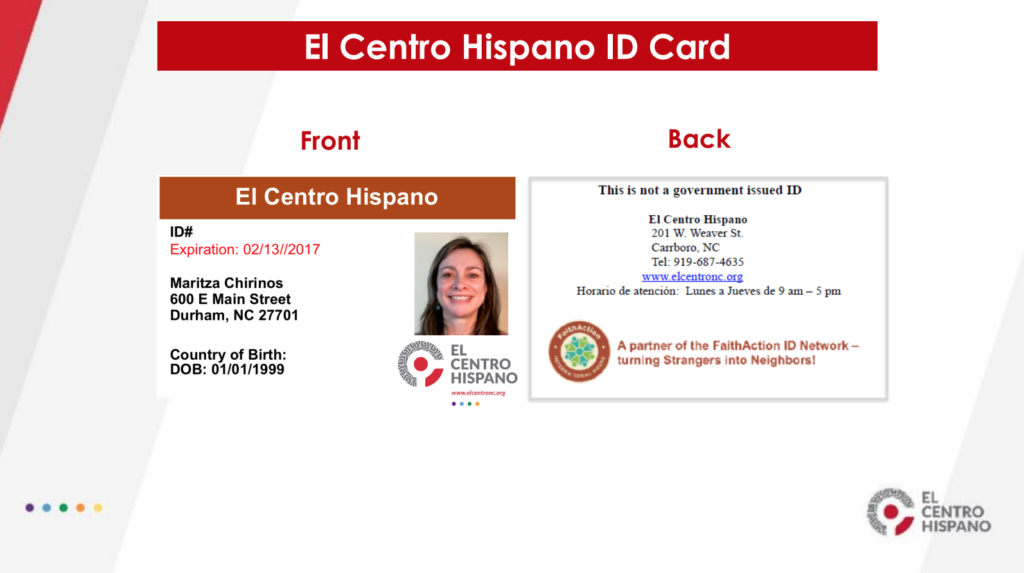 What are the limitations of the FaithAction ID card?
The FaithAction ID card is not a state issued  form of identification (and clearly notes this  fact on the back of the card), or a driver's  license.  
It cannot be used to vote and does not entitle  card holders to any social welfare benefits

. 

•

It does not stop persecution if someone is  engaged in an illegal activity and does not  have any impact on an individual's immigration status.
According to HB 318, community IDs and  consulate IDs cannot be accepted by judge,  clerk, magistrate, or "government official".
What are the requirements to receive an ID card?
All participants must attend an ID drive, in  which they are required to go through an  orientation on the benefits and limitations of  the card and sign a simple MOU to this effect.  
They then go through a thorough vetting  process in which they must provide

proof of  identity

(embassy ID, national ID card, 

passport, or driver's license) and

proof of  address

(utility bill, medical record, bank  statement, or lease agreement).  
Counties currently with a FaithAction Network ID
Guilford, Alamance, Forsyth and Orange Counties.
Carrboro, Chapel Hill, Asheboro, Raleigh and Durham Cities.
Cities exploring partnership – Charlotte, Raleigh, Sanford, Siler City, and Statesville.
Law enforcement agencies supportive of the program include Greensboro,  Winston-Salem, Burlington, Graham, Mebane, Elon, Gibsonville, Asheboro, Carrboro,  Chapel Hill and Durham Police Departments, as well as the Forsyth and Orange  County Sheriff's Department, and Moses Cone and Wake Forest Baptist Hospitals.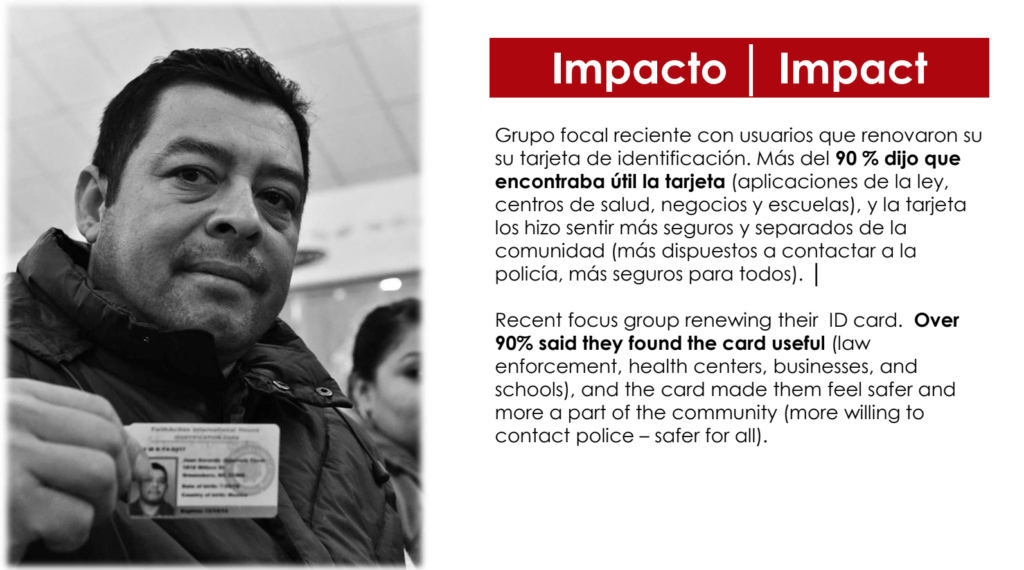 ECH has been part of  the FaithAction network since 2015
The ID initiative in the City of Durham started on  December of 2015 to provide ECH ID cards for  ANY law-abiding resident with limited access to  government issued forms of ID, and who  supports a safe, more inclusive community.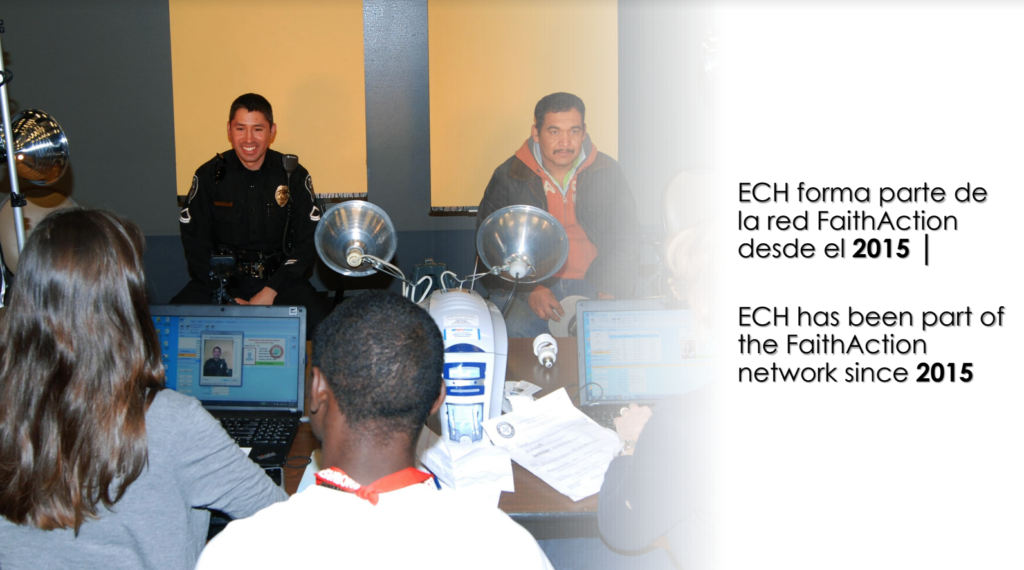 How to get a FaithAction ID?
Attend an ID orientation and be cooperative  throughout the ID card process. 

Signed agreement form and intake sheet 

(clear and correct spelling). 

Correctly addressed envelope (In the middle  of the envelope).  

Photo ID (passport, foreign national ID card,  matricula consular, driver's license). 

Proof of address (utility bill, bank statement, 

current lease agreement, medical record). 6. Cards are $10 (cash) and must be renewed  each year. 
Original documents only. Copies are not accepted. There may be some limited flexibility on certain requirements.
Additional Important Considerations
We will hold all personal information in a secure database  accessible only to El Centro Hispano staff and select  volunteers.
Card cannot be fraudulently obtained or duplicated.

•

Valid for one year, then must be renewed.
Contact us immediately if card has been lost or  damaged, or if address changes.
• You should receive your card by mail within 10-14 days if  envelope is correctly addressed, unless more information  is required from you.
Don't Miss Our Faith ID's Drives! (We open doors at 7 a.m. They close at 8 a.m)
June 11th

. Henderson

July 2nd

. Chapel Hill

July 23rd

. Carrboro 

July 27th

. Hillsborough  

August 6th

. Henderson  

August 27th. Durham at 2100 Chapel Hill Rd
September 3rd. Chapel Hill at The Catholic Community of St Thomas More  
October 1st

. Durham at Ministerio Monte Sinaí (2100 Chapel Hill Rd, Durham, NC 27707)

October 8th

. Hillsborough at Holy Family Catholic Church (16 Governor Burke Road, Hillsborough, North Carolina, 27278)

October 15th. Chapel Hill at St. Thomas More Catholic Church (940 Carmichael Street Chapel Hill, NC 27514)
October 29th. Henderson at Central Baptist Church (2547 Ruin Creek Rd, Henderson, NC. 27536)
November 19th

. Carrboro at Century Center (100 N Greensboro St. Carrboro, NC 27510)